Brooklyn College Performing Arts Center
Brooklyn, New York
Currently under construction with an expected completion date in early 2014, this new performing arts facility will replace the outmoded Gershwin Theater, providing new music rehearsal rooms and a 212 seat performance venue for both theater and music for the performing arts programs at the CUNY campus in Brooklyn, New York.
The building includes rehearsal rooms of varying configurations, practice rooms, theater rehearsal space and a state of the art digital music lab and recording studio. The entire structure was carefully designed to insure excellent acoustical performance and separations. I served as Technical Coordinator through design development and construction documents phases.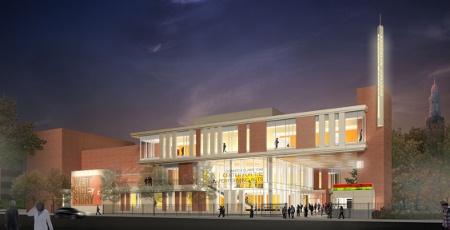 rendering by Pfeiffer Partners Architects
Pfeiffer Partners Architects
Credits: All model photos and renderings are courtesy of Pfeiffer Partners Architects.